This post is sponsored by Aveeno®. As always, all opinions are my own!
To tell you the truth before having Jessamyn I did not like hanging out at the pool. Summer for me meant many things but never the pool! Now being the parent of a two year old summer means popsicles, inflatable giraffe floaties, and a lot of pool time! Jessamyn would probably live at the pool if we let her and watching her get so excited about going every single day makes it 100% worth it every single time. I never thought I would say this but we might spend every day this summer at the pool and I look forward to every single second of it!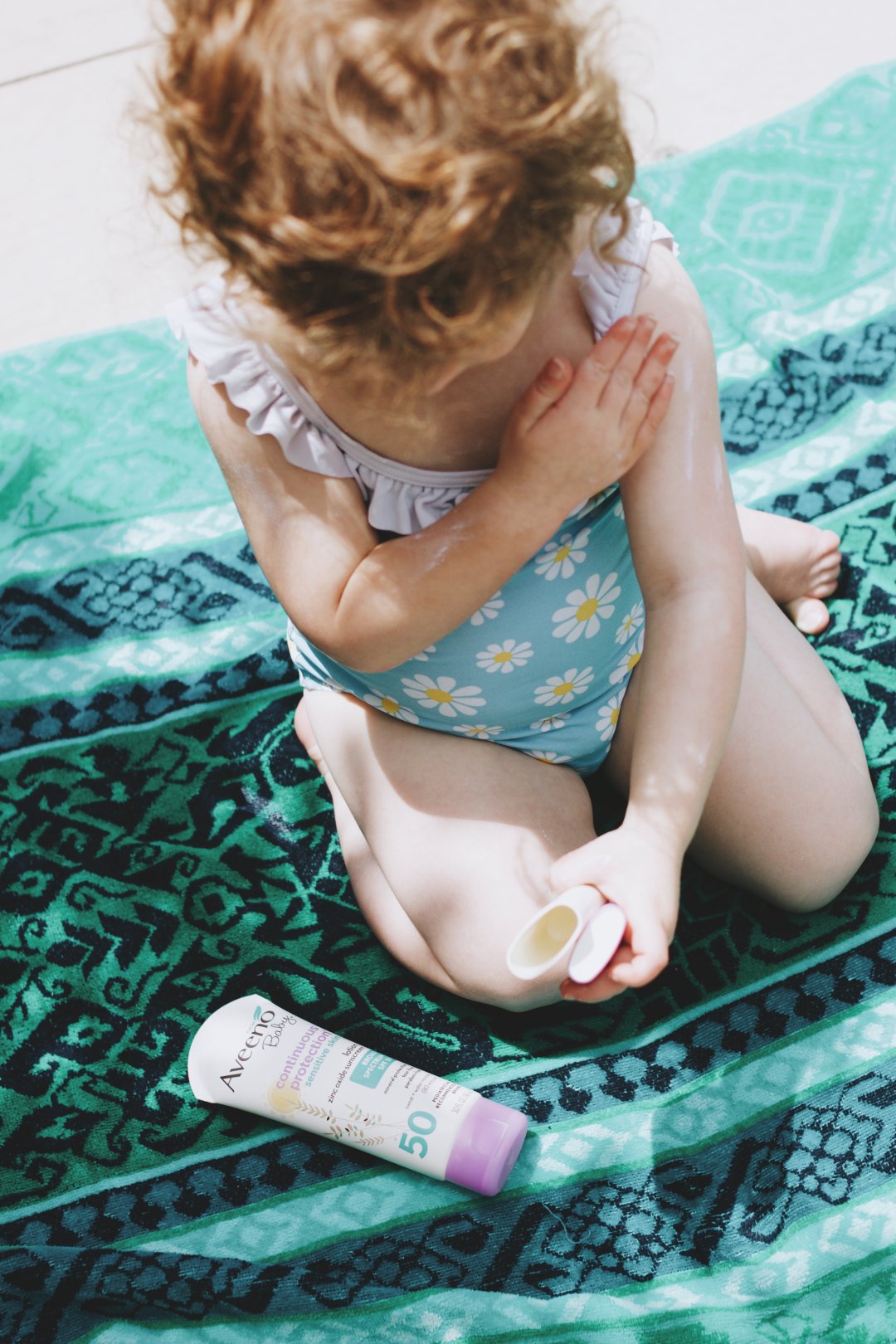 Hover over the image above to shop the Aveeno Baby Continuous Protection products on Target.com!
One thing that has made all the difference for us this summer is good sunscreen, and I don't say this lightly. My mother has a history of skin cancer that has left me determined to keep myself and my own babies safe from sun damage. Our current favorite is Aveeno® Baby Continuous Protection® Sensitive Skin Zinc Oxide Sunscreen. I've included some facts about this sunscreen below but genuinely love knowing that Jessamyn is safe while we are out by the pool and believe it or not she actually loves putting sunscreen on! She calls it "lotion" and basically does it herself minus my half crazed double check to make sure she is completely covered and ready to enjoy the sunshine without getting burned!
Some facts about Aveeno® Baby Continuous Protection® Sensitive Skin Zinc Oxide Sunscreen
Aveeno® Baby Continuous Protection® Sensitive Skin Zinc Oxide Sunscreen SPF 50 is formulated with oat to help lock in moisture and sooth babies™ delicate skin, while zinc oxide provides broad spectrum coverage to protect from the sun
The water resistant formula is hypoallergenic, tear-free and clinically shown to be as gentle as water
Without penetrating skin, this lightweight sunscreen leaves babies™ skin with a non-greasy and non-sticky feel
Dermatologist and pediatrician recommended
Free of all parabens, phthalates, dyes, fragrances and chemical sunscreen ingredients
The Aveeno® Baby Continuous Protection Sensitive Skin Face Stick Sunscreen SPF 50 is another great option. The convenient stick allows for mess-free mineral sun protection that's great for daily use and on-the-go application.
This post is sponsored by Aveeno® BUT sponsored or not I would be sharing this with you today because sun protection is so important and I cannot stress that enough. Whether you live by the ocean or in a land locked state like we do wearing sunscreen is in my opinion not optional if you want to take care of your skin and protect your children. We bring sunscreen everywhere with us. I always have a face stick in my purse just in case and our pool bag, diaper bag, and even the glove box of my car always has a tube of sunscreen in it. I know it sounds silly but taking care of your skin is just one of those things that will come back to you in a good way down the road and really there is no losing out with sun protection.
Aveeno® Baby Continuous Protection® Sensitive Skin Zinc Oxide Sunscreen SPF 50 lotion and face stick can be found at your local Target and I can definitely say it has been a safe and effective method of sun protection for us this summer. On the note of summer and pool time I would love to hear what your favorite summer activity is or pool time essentials? We are always looking for fun new activities and as Jessamyn gets older I cannot wait to continue to adventure and explore throughout the summer with her!